Berik Plokhikh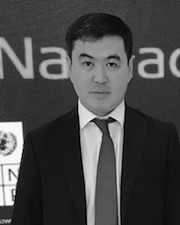 Berik Plokhikh is a partner for business development in private Swiss financial advisory company Seven Capital Valor Limited, offering financial advice and investment opportunities.
Berik was the founder of Royal Birds Group, a specialised investment advisory firm for direct and private investments in oil & gas, mining, agricultural and IT sectors.
From 2002-2010 he was the Supply Chain Manager in Agip KCO subsidiary of ENI, one of the largest Italian oil & gas companies. He has extensive experience in logistics, supply chain management and energy commodities trading. From 2011-2017 he was the managing partner in Caspian Investment Fund, an independent financial advisory firm operating in Central Asia, Russia, Western Africa, Middle East and South East Asia.
Berik brings extensive expertise in all aspects of corporate finance - from execution to origination of complex deals. He has developed, participated and led numerous successful transactions in the region across all sectors connecting the business initiatives worldwide. He has spent several years of setting successful projects in Middle East, Western Africa, South East Asia with in depth due diligence and corporate litigation. Berik has led numerous deals that has helped several financial institutions in Russia to recover lost assets, advising government agencies, financial institutions, corporations, multinationals, and law firms on regional and global challenges, risks, and opportunities.
Berik helps clients identify and manage risks involved in mergers and acquisitions, new market entry supporting clients' management of disputes, sanctions breaches, asset recoveries, counterparty exposure, reputational liabilities, political risk, capital market opportunities, and internal fraud and corruption investigations.
Berik, from Kazakhstan, joined Hawki in September 2019.