Major General Robin Searby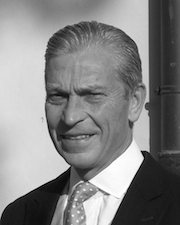 Major General Searby was commissioned from the Royal Military Academy Sandhurst in 1968 to join the 9th/12th Royal Lancers, an armoured regiment. Then followed tours with the Regiment in Berlin, West Germany and Northern Ireland. In 1973 he was seconded to the Sultan of Oman's Armed Forces to command an armoured car detachment during the Dhofar War. After a further tour with his regiment he attended the Army Staff College, Camberley returning four years later as a member of the Directing Staff. In 1987 he commanded his regiment, the armoured reconnaissance regiment of the 3rd Armoured Division. From mid 1991 he commanded the armoured reconnaissance force of the British Army of the Rhine in the rank of Brigadier.
In April 1993 he assumed the appointment of Commander British Forces Former Republic of Yugoslavia. In December 1993 he became President of the Regular Commissions Board. During 1995 he was detached to Headquarters Allied Forces Southern Europe as the principal operations staff officer for Bosnia operations during the NATO air campaign and the preparation for the deployment of the NATO Implementation Force. He commanded the 5th Division from 1996 before taking up his final military appointment as Senior British Loan Service Officer and Defence Advisor to the Sultan of Oman in March 2000.
In 2004 he was tasked by the then Prime Minister, Tony Blair, to establish confidence building measures between the United Kingdom and Libya post WMD.
He continued with this on his retirement combining it with an active career in the private sector as advisor to the Chairman of a large Gulf business house and with a British construction consortium in North Africa. He continued to support British government objectives in his role as the Prime Minister's Counter Terrorist Advisor for North Africa and the Sahel until 2012. In addition to his private sector work he is volunteer chairman of both SSAFA London Central and the 9th/12th Royal Lancers Charitable Association.
Robin joined the Hawki Advisory Board in January 2014. He is married and has three children.